Bedford, Louis & Ellicott (BLE)
was founded in 2007 determined to help business reach their full potential by developing their employees and connecting them to the vision of their companies on purpose! Headquartered in Ellicott City, Maryland, BLE with offices east and west of the Mississippi River has a national reach. That initial determination has never left us, and we invite you to partner with us to create that difference you have been missing in your organization.
---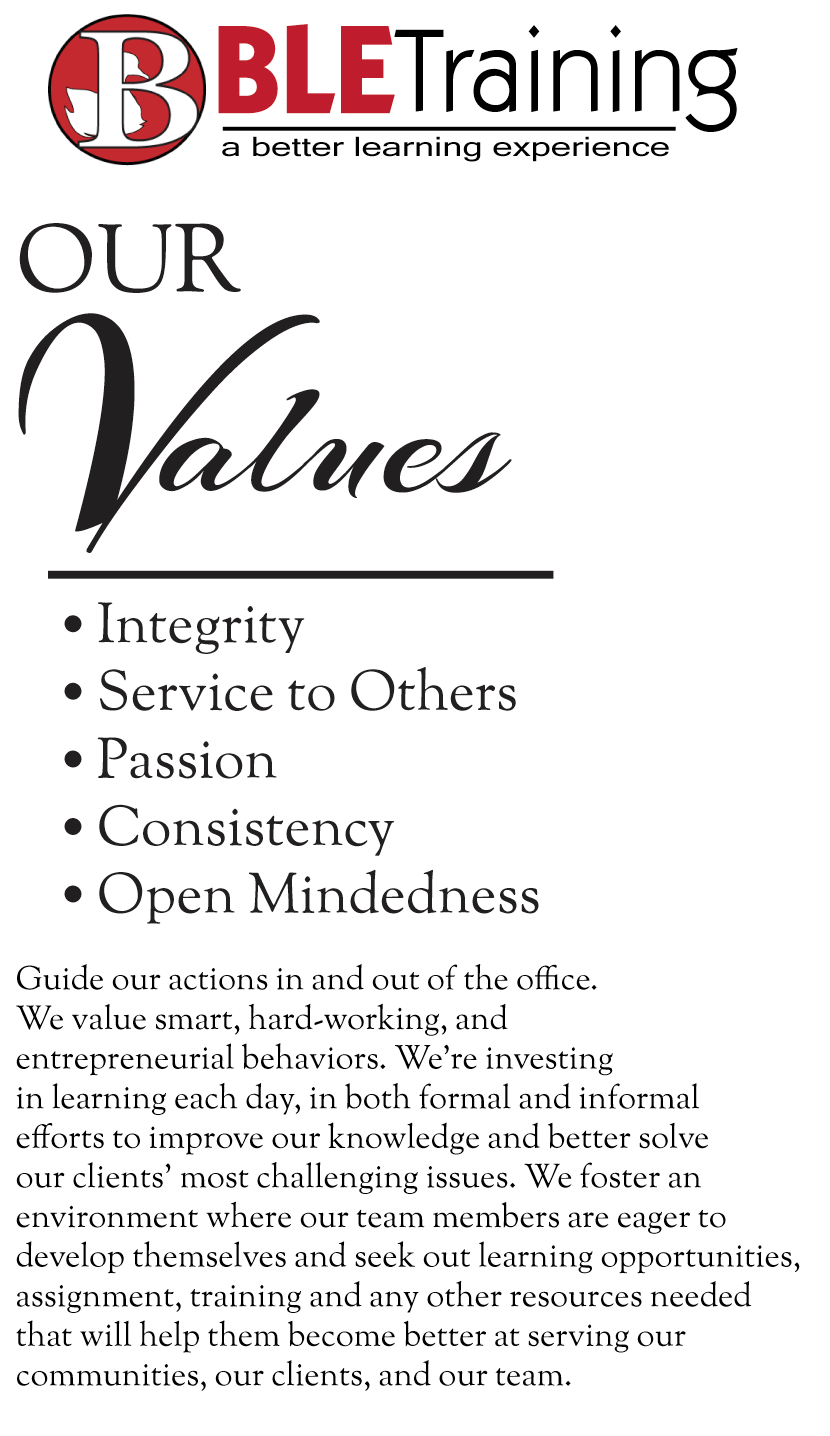 Our Values
Integrity: Do what's right, legally and morally. Integrity is a quality you develop by adhering to moral principles. It requires that you do and say nothing that deceives others. As your integrity grows, so will the trust others place in us.

Service to Others: Put the needs of clients, the company, and your community before your own by placing your loyalty to the values of the organization before personal gain. The basic building block of service to others is the commitment of each team member to go a little further, endure a little longer, and look a little closer to see how he or she can add value.

Passion: We have a lot of fun doing what we do. We have a lot of energy in our company. What drives us can best be summed up by passion. Sometimes that passion is evident – by getting out in front of our clients' needs by anticipating their challenges through insight, consistent communication, and diligent understanding of our client's business objectives and being clear that they all want to Win!

Consistency: Exceed the expectations of others by being consistent. People value consistency in their organization, their lives, and their leaders. Consistency removes uncertainty and leads to trust. Trust, in turn, leads to influence.

Open Mindedness: As a differentiating value, open-mindedness means willingness to consider new and different ideas or opinions. Having an open mind towards others, their ideas and creativity will have a profound impact on the community, the individual contributor, our teams and the organization as a whole by: Fostering creativity – Will allow us to look at the person first, be the first to try new things, and do things the best.